Attention Food Service Directors:
In the School Nutrition Programs (SNP) Bulletin No.1016 dated August 18, 2016, Superintendents were notified that the SNP application was available to be completed for School Year 2016-2017.  As a reminder, schools/agencies must complete the "Request for USDA Foods Delivery" portion of the SNP application within MEGS+.  The application will contain a separate section where schools will select the consortium they wish to join for School Year (SY) 2017-2018.  The deadline to complete the SNP application is September 16, 2016.
When entering the application in the View/Edit screen, the "Request for USDA Foods Delivery" form will be found under Program Forms: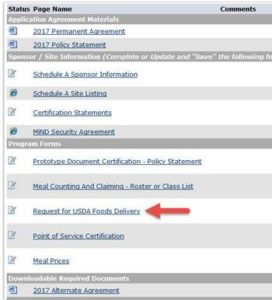 Schools/agencies will have the following choices for SY 2017-2018: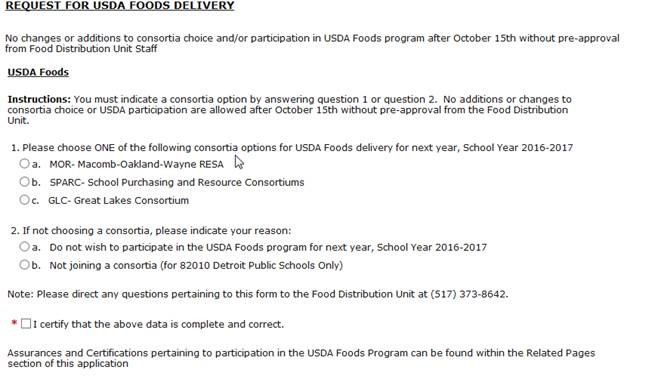 Schools/agencies must complete the "Request for USDA Foods Delivery" form or they will not be able to submit their School Year 2016-2017 SNP application for certification.  Once schools/agencies have certified their SNP application, the USDA Foods Delivery section of the application cannot be amended.  The school/agency decision is then irrevocable for 2017-2018 school year.
The USDA Foods and Consortia Facts for SY 2017-2018 and the Assurances and Certifications will be located under Downloadable Required Documents.  Please refer to this information when making your decision for selecting the consortium your school/agency wishes to join for the 2017-2018 school year.  We have attached a copy of Department of Defense (DoD) Service by consortia for your information.

Please remember that your school/agency already selected the consortium it wanted to participate in for School Year 2016-2017 in last year's SNP application.  Also, like last year, your district will notice that MDE is asking about your school/agency's local food purchasing habits.  We appreciate your time and attention to responding to these questions to better improve current produce programs, although, this portion of the USDA Foods page is optional.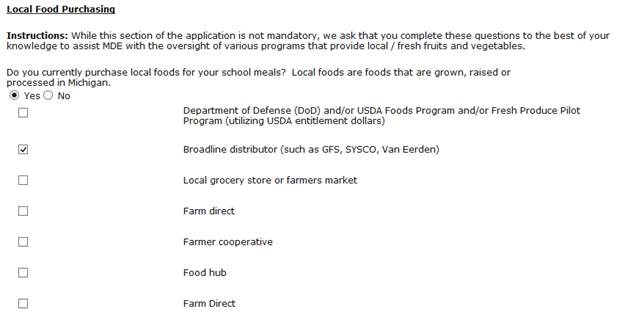 If you have questions, please contact Jaime Malnar at MalnarJ1@michigan.gov or 517-335-3792.
All NSLP Food Service Directors have been blind copied on this email.
Thank you,
Tom Priest, Supervisor
Office of School Support Services
Food Distribution Programs
Michigan Department of Education